Black Cobra - a sludge metal powerhouse hailing from San Francisco, California whose sound is quite similar to the great bands High on Fire and the early Mastodon yet it is different in a way.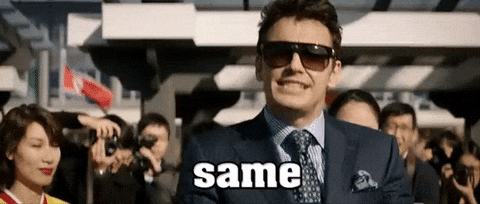 You might wonder why the James Franco reference and I assure you that I do feel my body doubles the produced amount of cancerous cells that my immune system has to fight every time I see this guy's face and hear his jokes. The dude is insufferable but this gif fits perfectly together with my handicapped comparison of bands in the previous paragraph. So let me try doing this again.
Combining thrash and grind elements with the dirt and heaviness of sludge, this band manages to achieve an old-schoolish, visceral and even expansive sound. Killer tones, savage riffs and reverberated vocals that even Matt Pike would approve of intertwine with the most masterful usage of unusual rhythmic patterns since ever. Cobra makes you guess what will happen next every few bars (and I'm referring to the musical notation, not a place where people go to drink to) that way keeping things fresh and entertaining for the listener. The fast parts in the songs don't just pass you by at immense speeds leaving you a bit disoriented like most of the grind induced madness does nowadays, but on the contrary these parts are actually quite memorable and catchy. The slow parts are punishing and sound just colossal. This is a band has that thrashy charm of an old Slayer record yet they are able to tap into the primal, add some mass to the sound and channel all that fury and guttural heaviness to create absolutely monumental songs.

I saw these guys support the mighty band Yob about a month ago at Blå in Oslo and I must say that somehow they manage to sound even bigger live than they do on tape, which is surprising taking in account that Black Cobra is a duo and guitar/drum duos usually miss the bottom end when playing live. But the sound these guys made live was simply chest crushing and the drumming was just not of this world. To say that their performance was mesmerising is a clear understatement - Jason and Rafa are two of the toughest and fiercest SOBs around and each of them possesses a pair of titanium knick-knacks for sure. If you have the chance, buy the tickets, buy their merch, see them live, they deserve your money!
Amps speak louder than words so let music do the talking for me - here is the title track from their latest endeavor Imperium Simulacra, enjoy!
If however you are a fan of something a little slower, don't worry! They got that aspect covered pretty nicely as well.